---
Best of Edinburgh
Restaurants
Introduction
Ye Pow'rs wha mak mankind your care,
And dish them out their bill o' fare,
Auld Scotland wants nae skinking ware,
That jaups in luggies;
But, if ye wish her gratefu' prayer,
Gie her a Haggis!
(Final verse of "Address to a Haggis" written by Scotland's National Bard, Robert Burns, in 1786.)
When it comes to eating out in Edinburgh there is a huge array of dining options to suit every taste and pocket. While the Scots continue their love affair with the haggis to this day, it is fair to say that things have moved on quite a bit since Burns' time!
As well as being the capital of Scotland, Edinburgh is also its culinary capital, boasting a fantastic choice of restaurants and dining establishments, serving superb cuisine and drinks at prices ranging from the cheap and cheerful to the seriously expensive. Here is a selection.
The Kitchin

Working to the philosophy of "From Nature to Plate" the multi award winning Kitchin delivers exceptional food within relaxed surroundings.
Located just off the popular shore area in Leith, The Kitchin serves modern British seasonal cuisine influenced by French cooking techniques.
Location: 78 Commercial Street, Leith EH6 6LX
Telephone: 0131 555 1755
Website: https://thekitchin.com/
Paul Kitching 21212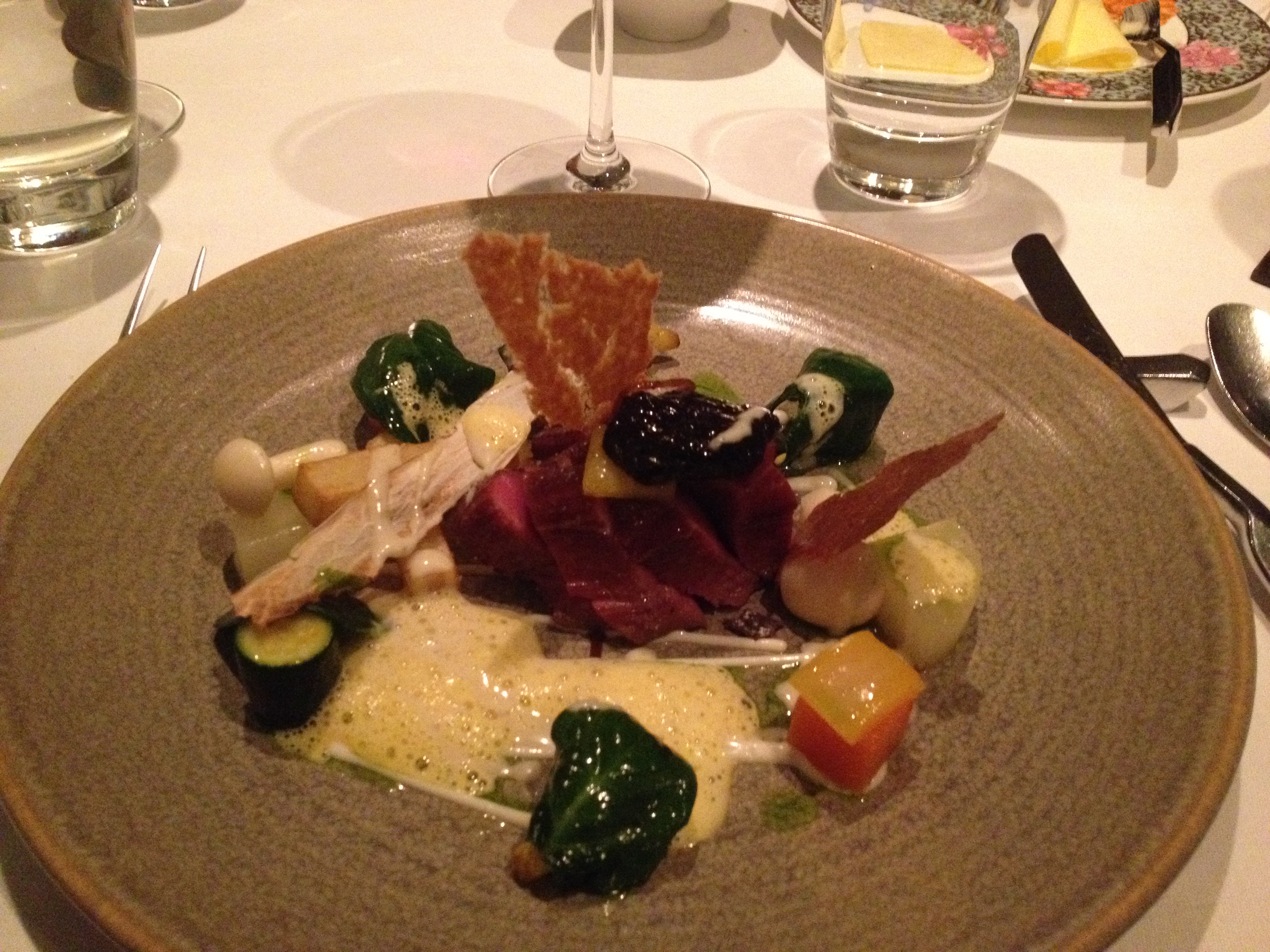 Location: 3 Royal Terrace, Edinburgh EH7 5AB
Telephone: 0345 22 21212 (UK)

Website: http://www.21212restaurant.co.uk/
The Dining Room at The Society
The Dining Room at The Society
The Scotch Malt Whisky Society, 28 Queen St, Edinburgh EH2 1JX Scotland
Modern Scottish

Here is a fantastic opportunity for non-members to experience the Scotch Malt Whisky Society's restaurant in its city centre venue in Edinburgh. The Dining Room at the Society, 28 Queen Street is an elegant Georgian restaurant boasting a mouth watering pre-theatre menu available between 5pm - 6:30pm, Monday - Saturday. Non-members can also enjoy the fabulous Modern Scottish a la carte menu for lunch or dinner services every Thursday. You don't have to love whisky, just 5-star food and personal, discreet service. With over 24,000 members worldwide and three magnificent UK venues, The Scotch Malt Whisky Society is dedicated to good whisky and good company - a chance not to be missed.
Howies Restaurant - Waterloo Place
Howies Restaurant - Waterloo Place
29 Waterloo Place, Edinburgh EH1 3BQ Scotland
Modern Scottish

The concept behind the thriving group of Howies restaurants is "fine food without the faff." Can't go wrong with that, can you? This particular venue occupies a gorgeous 200-year old Georgian building at the East End of Princes Street and reliably serves up the classic Howies mix of a laidback atmosphere and quality, good-value cooking served by very friendly staff in a bright, light surrounding. A three-course lunch will set you back around a tenner, and dinner under £20. Favourite dinner dishes include Scotch steak, and salmon. Snacks and drinks are served from 10am everyday. Who goes here? Mainly business folk, local MSPs and young professionals.
Hewat's Restaurant
Hewat's Restaurant
19 - 21b Causewayside, Edinburgh EH9 1QF Scotland
Modern Scottish

Once called The Marque, this little Causewayside establishment is now run by a talented young husband and wife team. Both bring close to 20 years' experience in hospitality; Richard as a chef and Margaret front of house. With this, their first joint venture, the pair have created a first-rate dining experience in a homely French bistro ambience. The white in the monochrome chequered flooring of the L-shaped dining room is reflected high-backed chairs in the formally set tables (each decorated with a posy). The menu sails a middle-to-upmarket route through modern national favourites such as pan fried black pudding and haggis and halibut steak with King scallops and lobster potato mash (a la carte). Fixed price lunch menu, and pre-theatre from 6 - 6.45pm. Predominantly New World wine list.
The Gallery Restaurant & Bar
The Gallery Restaurant & Bar
National Gallery, The Mount, Edinburgh EH2 2EL Scotland
Scottish

A more exciting location could not be imagined for The Gallery Restaurant and Bar, housed in the stunning new Weston link joining the National Gallery and the Royal Scottish Academy. The views over leafy Princes Street Gardens and landmarks beyond is breathtaking. The restaurant itself is laid out over three levels with a gathering-place horseshoe-shaped bar on the middle level, as well as outdoor seating. Decor is smart and up to the minute, and so is the modern Scottish menu. Try starter of sunblush tomato risotto with spinach and shaved parmesan, main course of grilled calves liver with buttered mash, pancetta and jus, and pudding of raspberry mousse in bitter chocolate cup. Wine list is very international with loads available by the glass. Kids' menu.
The Ivy on the Square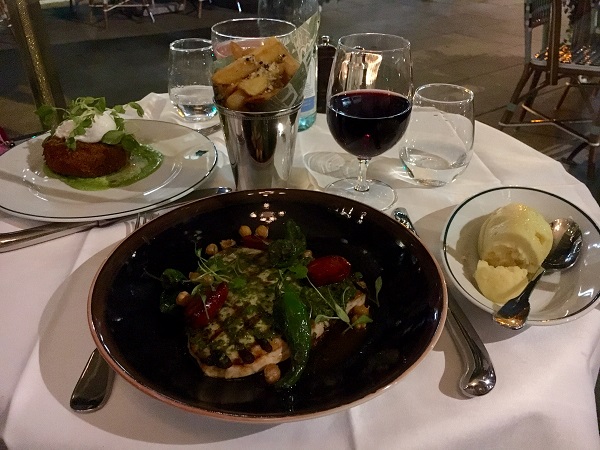 The Ivy on the Square
6 St Andrew Square, Edinburgh EH2 2BD Scotland

Located in the prestigious St. Andrew Square, in the heart of Edinburgh, The Ivy on the Square is an upmarket all-day British brasserie with an all-encompassing menu serving modern British and international Ivy-inspired classics from dawn until dusk, seven days a week. The restaurant features a Parisian-style outdoor terrace and a bar, offering tranquil relaxed yet sophisticated dining just a stone's throw from Princes Street.
Website: https://theivyedinburgh.com/

Whighams Wine Cellars
Whighams Wine Cellars
13 Hope St, Edinburgh EH2 4EL Scotland
Scottish/Local Produce

Right off Charlotte Square, down the narrow stairs you'll find Whigham's, an authentic Georgian wine cellar. You'd expect a blistering wine list with a nice line in champagnes, and her it is, but you wouldn't necessarily expect the fresh, high-quality cooking, emphasis on seafood, that emerges from the refurbished kitchen. Here you'll find starters of heart-stoppingly fresh oysters with raspberry vinaigrette, main course of a justly famous seafood platter, and dessert of renowned sticky toffee pudding. Menu changes daily. The wine cellar ambience is suitably dark, with alcoves, leather and wood, but now there is also a bright and airy eating area. The relaxed atmosphere is smart enough that you could bring your boss and not lose career points. And you'd be hard-pressed to dine so well without blowing the budget this close to Princes Street.
Howies Restaurant - Victoria Street
Howies Restaurant - Victoria Street
10-14 Victoria Street, Edinburgh EH1 2HG Scotland
Modern Scottish

A stroll from both the Royal Mile and the Grassmarket, Howies is a favourite among Edinburgh families, shoppers, business people and tourists alike. Part of a thriving chain of acclaimed restaurants, this branch is characteristically modern and atmospheric; popular for quick lunches by day, and leisurely candlelit dinners by night. Blood-red walls are hung with Van Gogh-style art, while the floor is filled with slightly rustic tables. It's not dark though; large windows see to that. Howies well deserves its reputation for fine dining on a budget. Fixed price menus mean you never have to pay more than £10 for a delicious Modern Scottish lunch, or £17 for dinner. Menus change monthly and always have a strong selection of seasonal meat, fish and vegetarian dishes. Superb puddings.
The Dome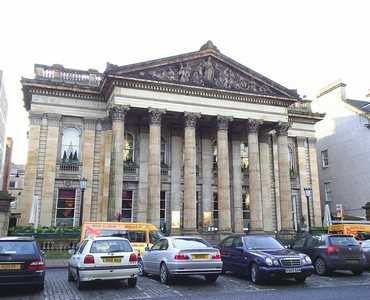 The Dome
Full of character, this wonderful ex banking building takes its name from the magnificent overhead dome. The menu is a superb mix of the traditional and modern.

Location: 14 George Street
Telephone: 0131 624 8624
Website: http://www.thedomeedinburgh.com/

First Coast
First Coast
97 - 101 Dalry Rd, Edinburgh EH11 2AB Scotland
Modern Scottish

West Edinburgh wasn't a dining hotspot, but charming, inviting, delicious First Coast is one of the establishments that have been changing that. A comfy toddle from Haymarket station, First Coast is quite an intimate, relaxed shop front restaurant done out the blues and greys of the sea, with rough hewn centre wall and super smart detailing. The frequently-changing modern Scottish menu lists meat and fowl as well as fish. Starters include very tender marinated squid, soy and sesame salad, mains include spicy grilled chicken breast with homemade sweet chilli sauce and coconut rice, and sweets include deep fried jam sandwich with vanilla ice cream- seriously. Short, thoughtful wine list, good vegetarian choices and warm service.
Browns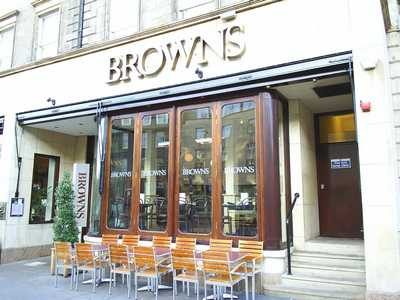 Relaxed brasserie atmosphere where classic food is served in stylish surroundings at reasonable prices.
Location: 131 to133 George Street
Telephone: 0131 225 4442
Website:
http://www.browns-restaurants.co.uk/restaurants/scotlandandnorthernireland/edinburgh
Amber Restaurant at the Scotch Whisky Heritage Centre
Amber Restaurant at the Scotch Whisky Heritage Centre
354 Castlehill, The Royal Mile, Edinburgh EH1 2NE Scotland
Scottish

Amber is a paragon of all that's great about Scottish food and drink. Housed between the old stone walls of the Scottish Whisky Heritage Centre in Edinburgh, it offers seriously sophisticated tribute to Scotland's culinary traditions. Just read these typical dishes: choux pastry with woodland mushrooms and sloe berry jelly, fillet of Buccleuch beef with rich wild mushroom and truffle sauce, honey-roasted courgette filled with Inverloch goats cheese and sun-dried tomatoes... it's glorious stuff. Whisky complements rather than dominates the menu, even though there are 300 single malts, rare aged blends (and a few surprises) to choose from. A comprehensive wine and cocktail list appeases those who aren't attracted by the tasting menu whereby the whisky sommelier recommends a malt for each course, explains the provenance of each, and why he's chosen them.
---